About six years ago I ordered my first rose bushes. I chose the oh-so-beautiful David Austin 'Christopher Marlowe' and  'Golden Celebration' – both floribundas and heavily scented. Unfortunately, I lived in an apartment and had very little luck with either of them blooming or flourishing like they should.
After I moved to my current home, the first thing I did was get these beautiful plants into the ground in a sunny spot and they never fail to impress me with their abundance of blossoms.  Are they a lot of work? Not really. Of course, there's the never ending battle of Japanese Beetles and the occasional bout of spotted leaf. I have cut them back severely a couple of times – but they always come back, blooming their forgiveness. Sweet scented and lovely.
Inspired by Color and Shape
It almost seems absurd to say that nature inspires my crepe paper flowers and branches – where else would the inspiration come from? However, it not just the flowers themselves but, with closer inspection, I'm inspired by the way a petal is colored or how it is shaped. It's amazing to take a flower apart and look at each part and how it all fits together. That's the real inspiration.
If I have never made a particular flower before, I always hunt for a good example. A couple of years ago I tackled the hydrangea in my yard. And, as it turns out, the hydrangea is made up of hundreds of smaller petals – gathered together, four by four, into a beautiful, large hydrangea head.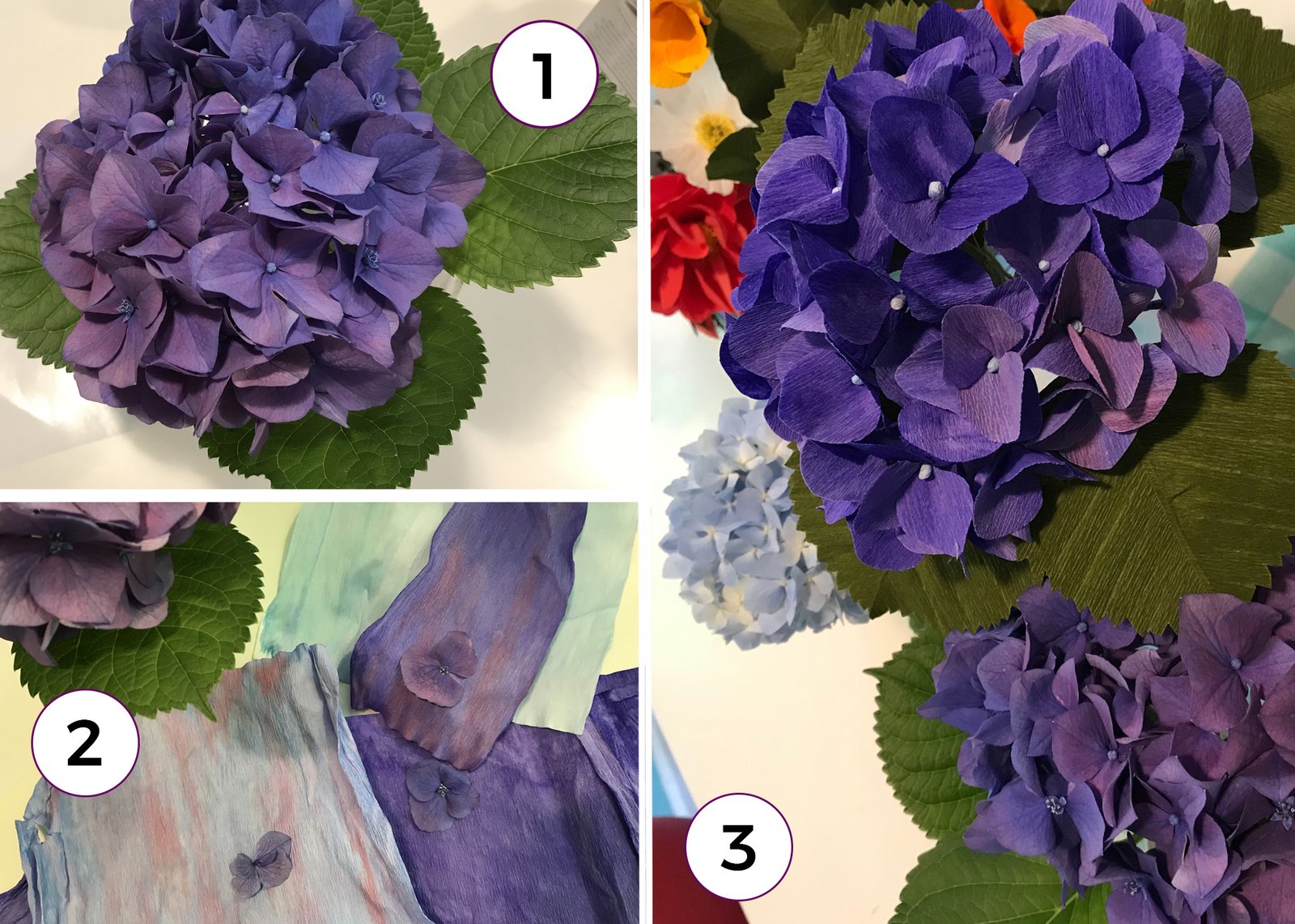 Here is an example of 1. the real hydrangea; 2. how I hand-dyed the crepe to match as closely as possible; and 3. the final result made from German and Italian crepe papers.
Interested in learning how to make your own paper flowers? Be sure and subscribe to my newsletter for announcements of upcoming tutorials.