Keeping all my various crepe papers and flower "recipes" sorted has been something I've been attempting to do for a while now. It was easy when I first started out. I had one vendor, less than a dozen crepe papers and just a few finished flowers under my belt. I put them all in a box and put in on a shelf in my studio.
Fast forward two years and, now, I have an ever-growing collection of rolls and folds of crepe from different vendors. Names and weights of crepe escape me and I find myself digging through old invoices or notes to see exactly where I ordered that ombre 180 gram crepe from.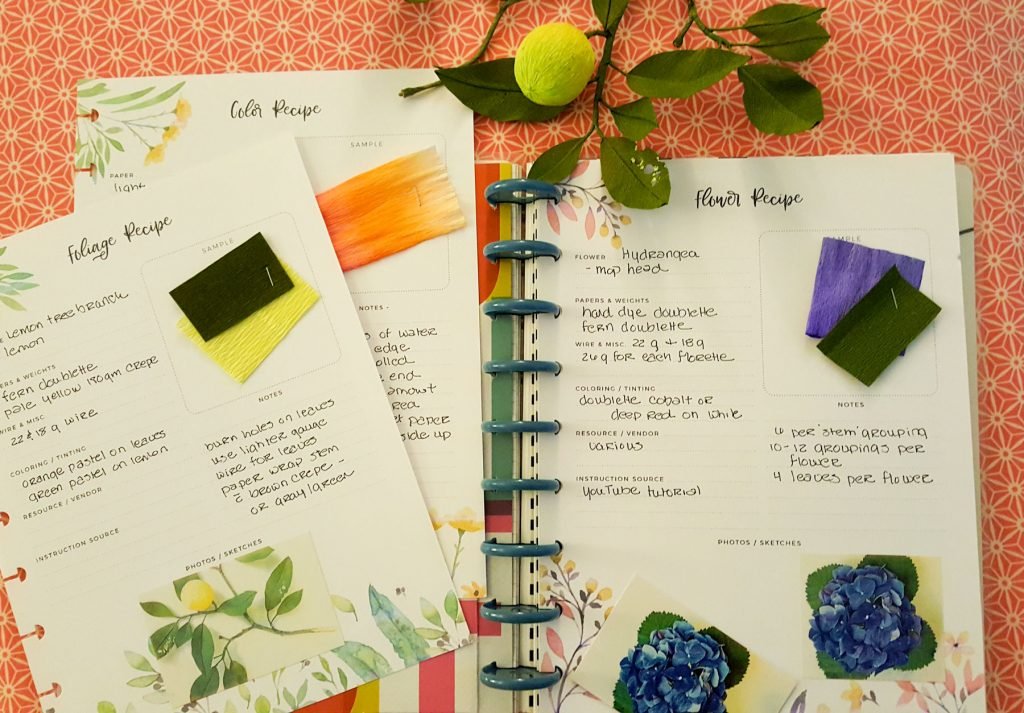 I am also hand dying more paper to get that "just right" color – and, if I don't write it down somewhere, I promptly forget how I did it. And don't even get me started on keeping up with what tutorial I watched when making a certain flower. It can start to get a little out of hand. And, believe me, I thought I would remember all of these details – but I didn't.
So, in order to combat that issue, I finally came up with a system that is working for me – all bound up in a planner notebook. I sectioned it off into four main categories:
Flower Recipe
Foliage Recipe
Crepe Paper Samples
Color Recipe (most important of the four!)
I, personally, am using the discs and covers from a Happy Planner* for my Flower Organizing Binder. I chose the Happy Planner because I already had a bunch of the binder rings and covers and accessories, such as the MAMBI 9 hole punch*, that makes it easy to add pages. A standard three ring binder would work well for this also.

I also created a series of Paper, Flower & Foliage Inventory pages to write down "recipes" of each flower and/or foliage I make. You can find these for download in the Shop. I include a small photo print of the item, maybe a sketch and some notes and small samples of the crepe papers I used. I have an HP Sprocket* photo printer which makes it super easy to print photos of a flower or branch from my phone – it's nice to have but not really necessary.

So, maybe this will help you a little to stay organized so you can create more without worrying about how you did something later. There are lots of flowers and lots of techniques, so don't wait like I did – start organizing now.

Here is a link to the Paper, Flower & Foliage Recipe Binder pages.